The Ups & Downs of Roof Leveling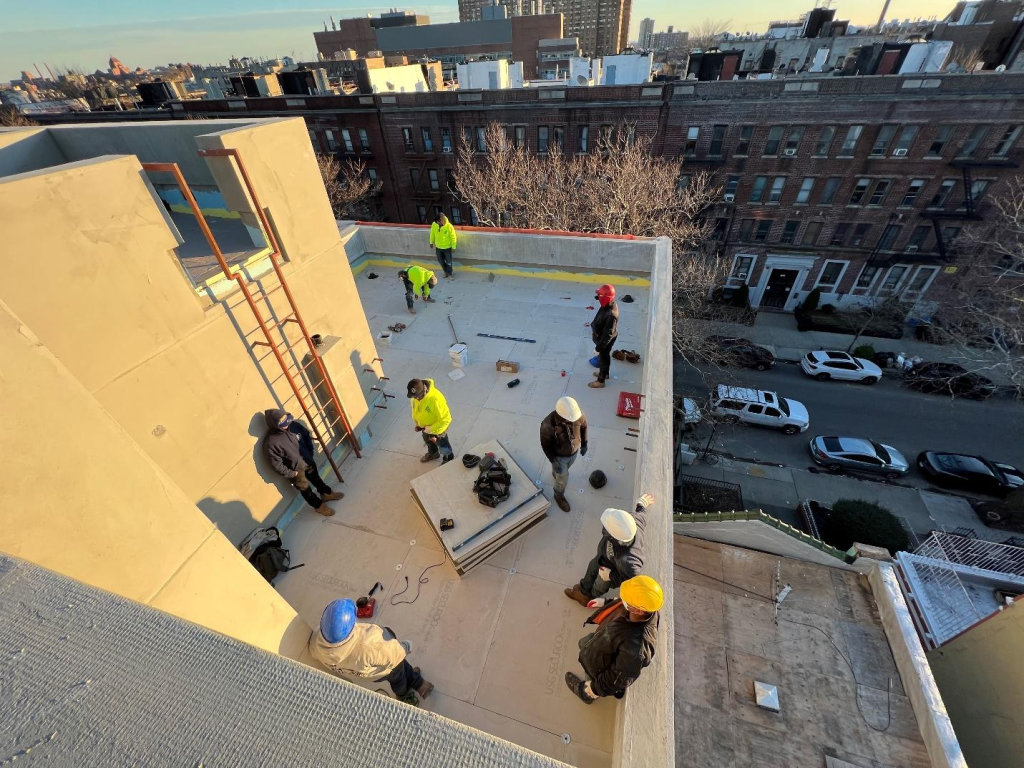 Living in a city as unique as New York City has perks, quirks, and things that may leave you a little off balance. Whether you are a homeowner, condo/apartment renter, or property manager, there is one thing they all have in common – the roofs are flat, and they are meant to be. You have magical rooftops throughout the city known for miraculous views and people watching the passerby, and it even provides Spider-Man a place to learn to fly.
When that flat roof becomes a little unsteady and not so flat – you could be looking at quite a mess. That is why having a superior NYC roofing contractor on call for your roof repair, replacement, maintenance, and leveling needs can come in handy – in more ways than one. When a flat roof develops lumps, bumps, or cracks, you are looking at a problem that can easily be resolved but should be inspected and leveled quickly and efficiently!
The Basics of Leveling
Roofs are a critical component of every home or property; no structure is without one. The flat rooftops in New York can be seen for miles – they are meant to comfort home and business owners. Over time, with age, exposure to the elements, and sunlight, roofs can get worn down and worn out! When you need to support large properties, apartment buildings, and homes or condos – you need a flat roof as a peaked option just calling to provide the same support functionally or practically. The overall maintenance of these kinds of roofs happens within the structure.
If a leak is due to water or other elements, standing water can develop inside the roof and cause indentations. Once this begins, it only worsens, which calls for local roofing specialists; they can access roof-leveling compounds to straighten things out. If your roof has cracks or dips and you want to avoid a complete replacement, roof leveling is an excellent solution! The compound is created to help even out and level your roof in high or low spots that need attention. Without committing to this procedure, you could end up with a leak you may have wished you could have avoided with the leveling process.
Why Compounds are So Important
The proof is in the compound – meaning the products used to level a roof are the secret ingredient to satisfaction, security, and success. It is referred to as a compound because it is compounded of different materials meant to provide strength that is bold enough to fill in any areas that are lower than they should be or higher than you want. The compound secures the balance, function, and aesthetics of your roof. Your roof technician will pour the compound, add water, and then allow it to dry while maintaining inspection and follow-up to ensure the leveling process exceeds your expectations. It seems easy, but this is not something you should attempt yourself because if any mistake is made during the pouring process, it can set off ripple effects of other issues with your roof, and you may even end up needing a replacement or a more costly repair session.
Many different brands offer various compounds. This troubling circumstance makes things challenging for homes, businesses, and property owners. Sometimes the options are so expansive things become overwhelming – but they don't have to be! You can work closely with your roof tech to accurately designate the best compound for your needs and budget.
Generally speaking, no one combination cannot complete the job and secure the level of your roof. An essential part of pouring the compound is ensuring the flatness of the materials. If things begin to dry unevenly or are applied in a way higher than the rest of the surface, it has to be chipped off and redone. This is why turning to the professionals for your roof leveling will ensure your money is well spent, you aren't wasting your time, and your roof returns to its original state.
Who to Call for Reliable Roof Leveling Services
While roof leveling may not seem like rocket science, completing the task requires skill, precision, and prior knowledge. It is technical in nature and can be dangerous if you don't understand the proper steps to take. This is why leaning on your local roofing company for support can assist in washing your roof worries away! By reaching out to experts in all things roof related – you have a team of individuals with the experience necessary to level out your roof and provide your household, apartment complex, or business with the sense of security you deserve.
In working with a licensed and insured roofing contractor, you can consult and retrieve estimates from multiple contractors before moving forward with your project. This allows you to research, dig into the compounds, understand, and consider the loss, and review warranties. Most roofing companies will provide a personal representative or foreman to help guide you in your choices once the roof has been thoroughly inspected and examined. These are all factors that feed into successful roof leveling!
Smart Roofers NY services the Big Apple and neighboring communities with the most outstanding roof leveling solutions, roof repair, maintenance, replacement, installation, green roofing, and other specialty roofing options. Smart Roofers has served New York City and its residents with high-quality, reliable roofing expertise. Their technicians can always provide a free consultation when considering roof-leveling your home or industrial building. Don't put off your uneven rooftop for another day; consider contacting the experts for a helping hand in leveling out your home, business, and everyday life.