Buying the Right Size Lederhosen Online – A Guide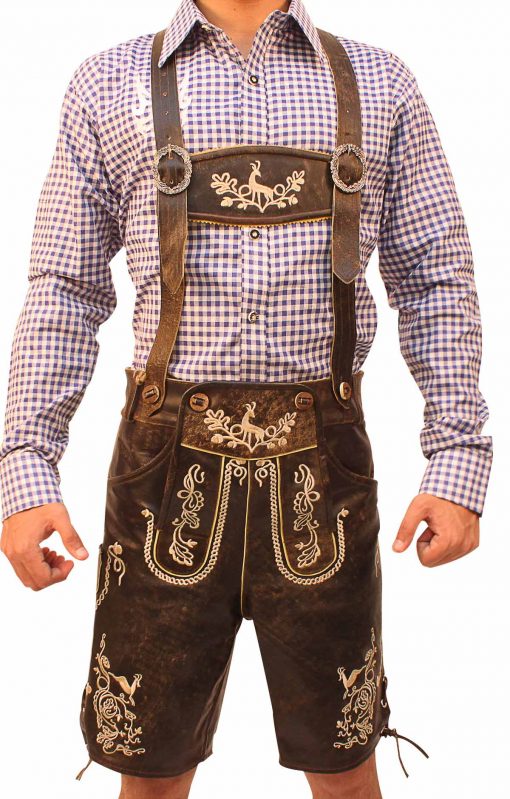 A pair of Lederhosen fits perfectly when it's tight and doesn't snag. A made-to-fit Lederhosen enhances the look of a suave man remarkably. Also, for a perfect fit, you must know your exact measurements. We at Lederhosen Store use innovative technologies to optimize your comfort. For us, sizing is not a fashion or aesthetic choice; it is an integral part of creating hands-on solutions for the garment – for all sizes, shapes, and genders. 
One of the most asked questions at our online shop, Lederhosen Store, is how to buy the right size Lederhosen online and how to get a good fit for a Lederhosen. 
In olden times the Lederhosen were crafted in small local shops, so there was no sizing available whatsoever. You had to try it on. Certainly, this was also the case for regular pants in those years as the pants were not produced industrially either.
More on Lederhosen sizing later. We Promise!
Buy the right size Lederhosen online – So, what is a Lederhosen?
Lederhosen, a hardy garment, were initially a peasant's workwear. The garment was created in line with the rough working conditions of the Bavarian peasants. The name 'Lederhosen' translates as Leather Breeches (trousers) in German. 
Lederhosen and Bundhosen are made to provide ease of movement, be comfortable, affordable, and low-maintenance garments. The iconic garment fell out of style in the late 19th century. When Bavaria joined Germany, the fear of losing Bavarian traditions and culture was prevalent among the locals.
Many cultural restoration and revival programs were put in agile motion. Lederhosen became the cultural symbol for Bavarian unity and is now ruling an entirely new demographic.
Lederhosen are in use for various purposes, most commonly as an Oktoberfest costume. 
What is Oktoberfest and what to wear at Oktoberfest?
Oktoberfest is a yearly celebration held in honor of the blessed nuptials of Crown Prince Ludwig with Princess Therese. The celebration of love has turned into a global festival, and borders do not bind that. Every year millions of tourists descend to Munich, the official host of the Oktoberfest celebrations. Even a higher number of enthusiasts celebrate the festival in their local communities.
The party hosted by the royal court in 1810 lasted days and turned into an exciting festival – with yearly horse races that were followed by farming exhibitions. Historically, the locals of Munich turned up to the 1810 nuptials of Prince Ludwig and Princess Therese, clad in their Lederhosen set and Dirndls. Since then, Oktoberfest has been synonymous with traditional Bavarian clothing Dirndls, Lederhosen and Bundhosen.
Unless you live under a rock, you must be familiar with Oktoberfest and the authentic Lederhosen.
Types of Lederhosen
When you decide to dress up for Oktoberfest, you may ask yourself; how can I buy the right size Lederhosen online? Additionally, you may notice that various types of Lederhosen exist. A few details that give the garments their wow factor are their scroll-like stitches and visible seams in complementary color combinations. 
Authentic German Bundhosen are a slightly different version of the Lederhosen. Both Lederhosen and Bundhosen are quality leather breeches, historically used as peasant workwear until later when they found their way into the world of leisure. Their use remained practical in hunting, hiking, horse riding, and other outdoor activities. 
The 21st century gave rise to the Female Lederhosen, with women swooning over the rough and rugged nature of the leather breeches. The women's Lederhosen are accented with floral patterns and embroideries. At the same time, children's Lederhosen comes in similar cuts but are miniature in sizes. Plus, there are options for toddlers too. 
Lederhosen is handy to wear, maintain, clean, and store as an outfit and a product. All of these are significant contributors to its popularity.
Lederhosen Vs Bundhosen
Lederhosen for men and women, along with Bundhosen, are equally famous as Oktoberfest costume and for other occasions as well. The critical difference between them is their trouser length, with Lederhosen being a tad bit shorter than the Bundhosen. Both outfits remain popular among men and women in history and also in recent times. 
Choosing between Lederhosen and Bundhosen – The main contributing factor while choosing between a Lederhosen and a Bundhosen is the weather. As Bundhosen are longer in length, this makes them suitable for winter events. Though, the Oktoberfest starts in autumn in Munich. 
As the weather at Oktoberfest is quite pleasant in Munich, you can see people wearing both Lederhosen and Bundhosen. As it goes, the Lederhosen are more common at Oktoberfest as they were the Bavarian's choice of attire at the first Oktoberfest celebrations. However, it again boils down to your personal preferences, just how long you want your leather breeches.
Lederhosen is perfect for people who like to enjoy the cool breeze on their shins and have well-toned legs to show off. Yet, if you prefer clothes that offer more of a cover below the knees, the Bundhosen is the right choice for you. Head over to our online shop – the Lederhosen Store for new and exciting variety of masculine Lederhosen and chic Dirndl.
Also Read: Beauty Benefits Of Cranberry Gummies.