How Should A Dirndl Fit? It's Not as Difficult as You Think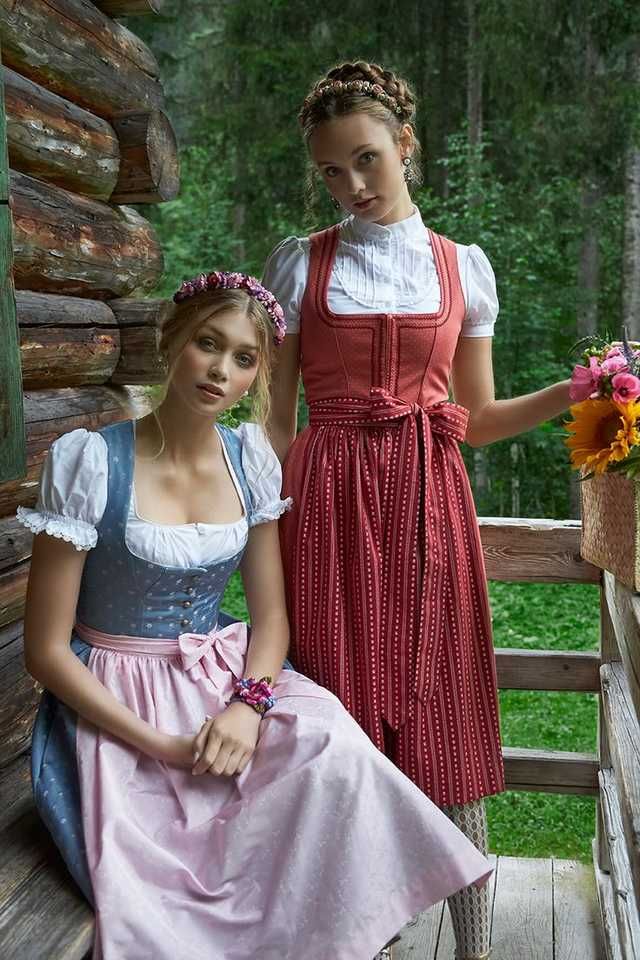 A dirndl dress is a fascinating form of dress. This traditional garment has survived hundreds of years, people's varying tastes and trends, and even the rise and fall of entire empires. So why is it that it doesn't always fit well? Well, sizing issues are one part of the problem. There's also the fact that the word "dirndl" actually refers to many different types of clothing. To make matters more complicated, a dirndl isn't regarded as timeless and fashionable in Germany, but in other European countries.
A dirndl is not just another dress; it's an expression of your sense of style and a statement of your personality. That's why it's so important to ensure you're wearing one that fits you perfectly and shows your figure off in the best possible light. That way, you'll be able to exude the luxurious German dirndl dress.
Dirndl Dress Fitting
When purchasing a German dirndl dress, it's important to find one that fits you perfectly and accentuates your feminine silhouette. It should create curves and hide problem areas.
The dirndl is the traditional Bavarian costume worn by many women during Oktoberfest, a church fair, or even at a wedding. You'll want to dance and eat at these events and maybe enjoy a few hours of fun in your new dirndl dress.
The best way to determine how a dirndl should fit is by considering the look you're going for. A well-fitting dirndl flatters your figure and accentuates your most beautiful features. Women who want a generous décolleté and slim waist opt for a dirndl that makes them feel feminine and sexy.
Wits snug-fitting bodice, dirndl blouse, and waistband, the dirndl is a garment that requires careful tailoring. But you should also consider which length works best for you when it comes to choosing a dirndl skirt and apron length.
Choosing Right Bodice
The bodice of a dirndl dress is often the most robust part of the ensemble. It supports the breast and gives it a nice shape while also offering support to your upper body. It is close-fitting, so you may gasp when trying it on for the first time, but after a few moments, you will get used to your second skin and feel wonderful wearing this luxury garment that supports your upper body beautifully.
When it comes to your bodice, the fit is everything. If a bodice doesn't fit, it can't do its job of supporting you and making you feel fabulous. But too tight will crease across your back; and too loose, and it will hang off you like a sack.
The dirndl apron should be laced at the narrowest point of the hips, as this is where it will fall most beautifully. For example, even with smaller breasts, you can create an eye-catching décolleté by adding heart-shaped cutouts and ruffles right in the center!
Selection of Dirndl Blouse Fitting
Dirndl blouses are available in many colors and styles, most often with a sweetheart neckline and traditional puff sleeves. They come in different varieties to complement your dirndl dresses, whether you want to wear them with your own design or that of the Bavarian Masters.
An elegant dirndl dress is designed to create an illusion of a flawless figure. The sleeve length should be proportional to your arms – so if you have slim arms, long sleeves will look awkward, while if you have broad shoulders or strong arms, avoid puffy sleeves.
A high-necked blouse is a perfect complement to an old dirndl. It gives it a fresh look that makes it feel romantic and innocent simultaneously. If you want something more provocative, try a black lace blouse with your dirndl dresses. Who would have thought that your dirndl could be so sexy?
Lace dirndl blouses should fit tightly, while a classic cotton blouse can sit a little looser. An elastic band ensures that nothing slips, while you can vary how much cleavage you want to show with a central gather.
Dirndl Dress Apron Fitting
Dirndls and aprons can be bought as a set. But with a new apron, you can breathe new life into your old dirndl! The most important rule is: It must not fall over the skirt hem but should end two fingers above it.
The dirndl's apron should lie flat over the skirt, not crumpled and wrinkled. The apron's bow should be crisp and unblemished as well. You can tie your bow in many ways: on the side, in front, or even in the back. But be careful! The position of the loop reveals much about your relationship status:
Even engaged or married women wear their bows on the right side of their head.
A bow tied on the left side signifies that you are single and ready to mingle.
For both waitresses and widows, a bow on the back is tied.
The bow in the middle of the front represents the wearer's virginity.
The perfect dirndl dress should emphasize your waist and create a harmonious silhouette. It should also flatter your figure and make you feel beautiful. To get a beautifully fitted dirndl dress, you can visit Dirndl Online Shop. They provide a complete fitting and size guide with every dirndl dress they offer. If you stick to them and choose the right dirndl, you can be sure you will look gorgeous in your Trachten outfit.
Also read Mangaowl for interesting information
Also Read: A Career In Data Science All You Need To Know.