How To Wear A Pearl Necklace Casually To Elevate Your Everyday Outlook?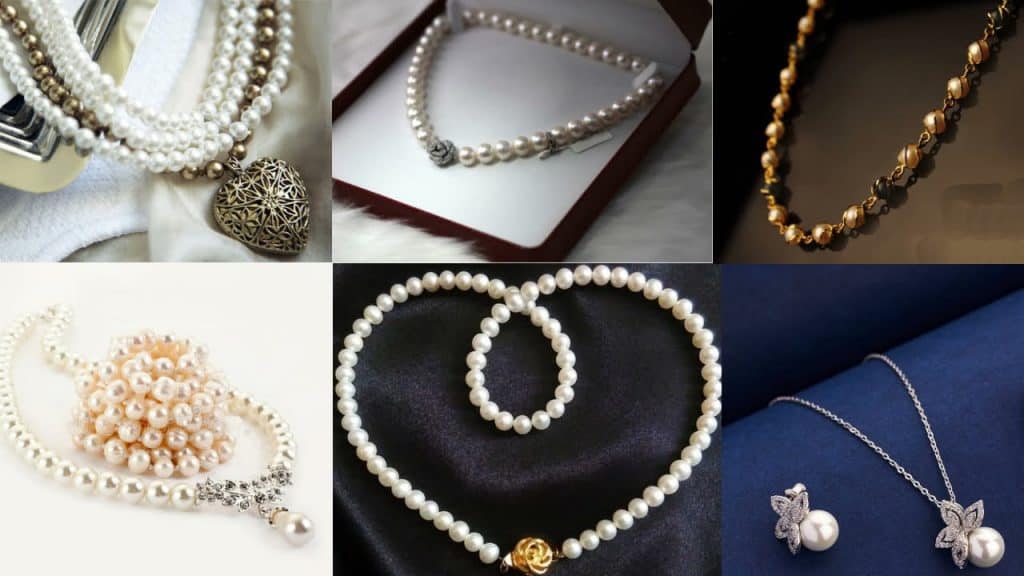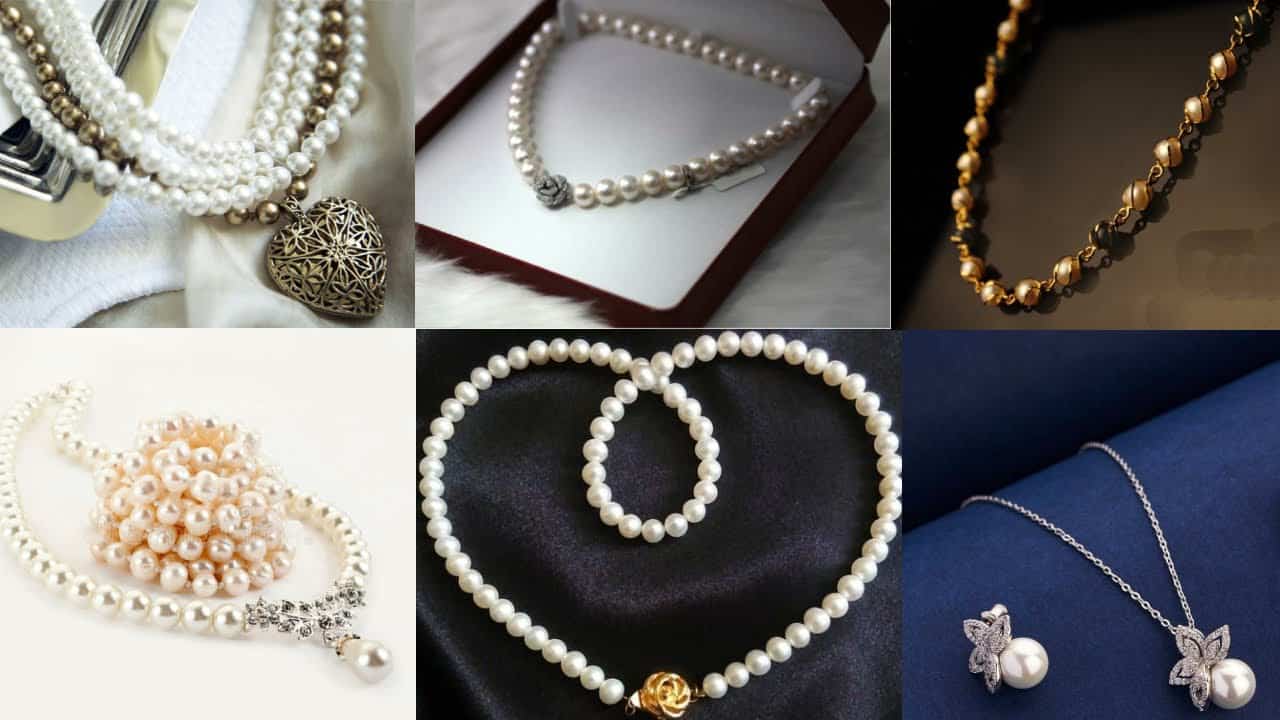 Those days are long gone when pearls used to be worn only for formal occasions or evening engagements.
Nowadays, you can wear a pearl accessory anytime anywhere.
But how to wear a pearl necklace casually? It could be a hit or miss if you cannot carry a pearl necklace elegantly.
Most importantly, not all types of necklaces will go with your casual attire.
For example, we don't think that chokers are appropriate to wear with everyday wear. Neither a 36-inch long pearl rope will compliment your casual outlook. So, the best size for casual wear is 16-18 inches. Moreover, it's best to avoid larger pearl sizes as they could be too dramatic for an everyday outfit. Instead, the smaller pearls will blend better.
However, there is a lot more to know about how you should style your pearl necklace casually.
So, let's get straight to the point!
Can You Wear a Pearl Necklace Daily?
Absolutely yes. You can pair up a pearl necklace every day, whenever you want, however you like.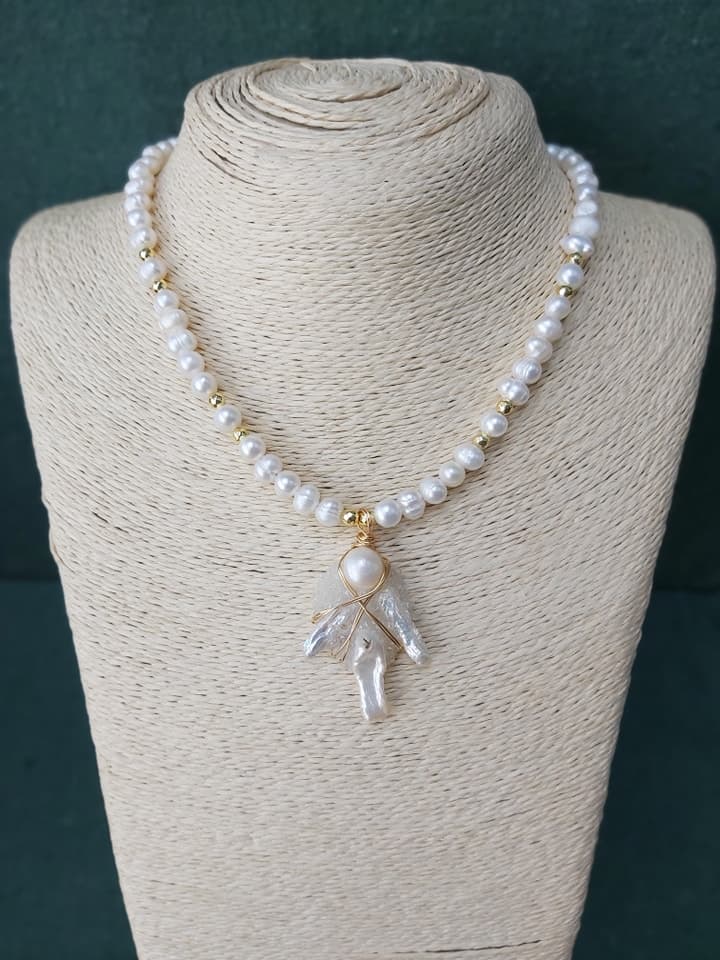 Wondering how? By maintaining a few simple rules. There are some substances that could affect your necklace's shine. For example, keep the necklace away from perfume or hairspray.
Otherwise, they will erode the pearls. Also, you must put the necklace on last while getting dressed so that you are done with applying those products.
Most importantly, you need to wipe the neckpiece thoroughly with a damp cloth after every use to protect its luster.
Now, coming back to your query, can pearls be worn every day or not, let us inform you that it's actually better to wear pearl jewelry regularly.
Why so? Well, your skin produces natural oil which is really beneficial to regenerate the nacre.
That's how the pearls hold their shine for longer. In fact, the more you wear them, the better finish they will get.
Just don't forget to follow the aforementioned steps while wearing a pearl necklace daily.
Can You Wear a Pearl Necklace with Jeans?
Why not? Pearl is a versatile gemstone after all. And a pearl neckpiece will gorgeously blend with a pair of jeans to attribute an elegant outlook altogether.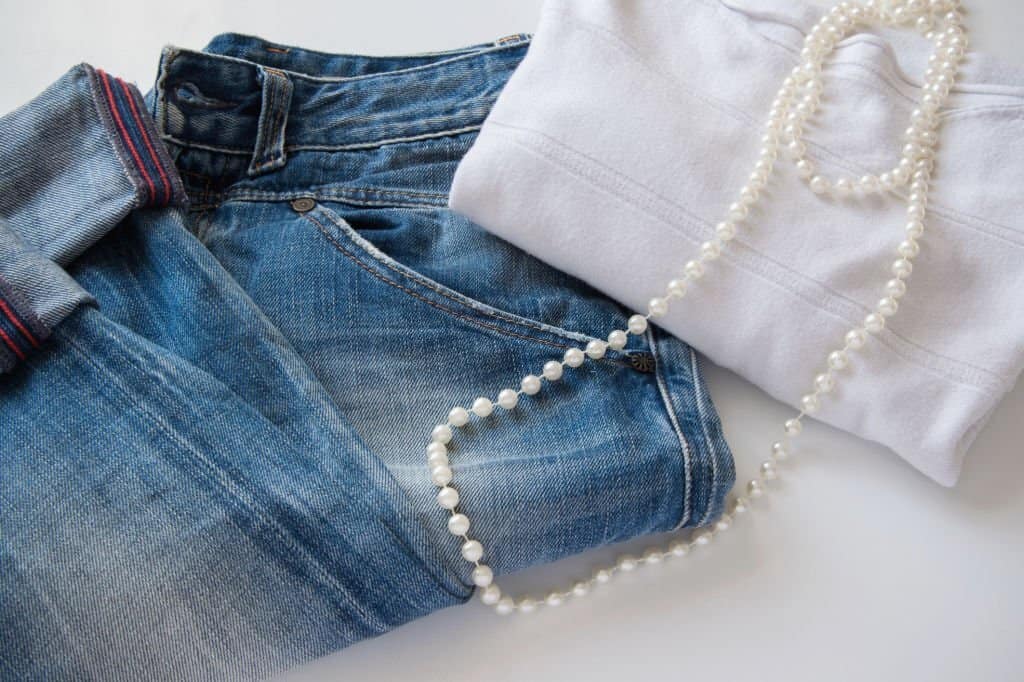 When you are going out with your friends or family, a long durable strand of pearls will perfectly go with a pair of skinny jeans. You will look casual and classy at the same time.
But you need to be a bit careful while deciding on the colors of both your clothes and the pearls.
Usually, darker clothes go well with lighter pearls, and vice versa. As it creates a perfect contrast, you will look elegant and confident.
For instance, you can pair up darker skinny jeans and a loose top with a pink or white pearl necklace.
But don't go for bold and funky pearls if you don't want to be overdramatic. And always try to leave an impression of sophistication while choosing the proper pearl necklace in order to get a classy-casual combination.
How to Wear a Pearl Necklace Casually?
If you want to wear a pearl necklace casually, you must choose it in the right shape, size, and color. Besides, you have to properly pair it up with the right attire as well.
Nevertheless, we suggest following the following ways to find the perfect pearl necklace to lift up your casual outlook.
Choosing the Right Shape and Size
Gone are the days to wear a necklace made of those traditional round-shaped pearls. If you want to shift from a formal to a casual look, try out the other shapes as well.
On that note, baroque pearls could be an ideal choice as they are both fashionable and affordable. Moreover, the oval, tear-drops, buttons, etc. shapes are considered modern and stylish.
And for size, the smaller, the better. Because larger pearls might overpower your attire making you less attractive.
Ao, choose a necklace wisely with smaller beads of pearls for a casual and comfy outlook.
Choosing the Right Color
Based on the type of pearl you choose, you can get a diverse range of color choices.
The South Sea pearls, for instance, are mostly golden or white. And the Tahitian pearls offer some darker shades.
You should go for a pearl necklace that contrasts your clothing. Also, white pearls are preferable for cooler undertone skin.
On the other hand, creamy pearls could flatter warm undertone people beautifully.
Adding a Splash of Color
Nowadays, you can mix and match a lot of colors to add a modern twist to your casual outlook. If you are wearing a plain top, why not wear a colorful pearl necklace to bring some playfulness?
Saying that gray pearls could be a sign of sophistication whereas pink pearls could be great for a romantic date.
Layering Your Necklace
Although layering pearl necklaces were a popular fashion hack back in the 1920s, recently, it's on trend again.
Adding layers to the necklace would offer you some aristocratic pearl necklace outfit ideas.
For daily wear, you can layer a long pearl necklace with shorter styles. Or, add a chain for creating a contrast.
Keeping It Simple
Last but not least, you need to keep it simple for a casual outlook. Don't wear a multi-strand necklace unless it's a black tie event.
Rather a single-strand pearl necklace is more than okay if you are going shopping or to the office.
Yes, you can opt for a double-strand necklace if you are wearing jeans, a t-shirt, and ankle boots.
Are Pearl Necklaces out of Fashion?
Not at all. Pearl is a timeless gemstone and it's never going to lose its appeal among fashionistas. In fact, pearl necklaces are more popular than ever in recent times as you can wear them both formally and casually.
So, pair up a pearl necklace with your casual wear confidently and be the symbol of aristocracy and elegance.
Does a Pearl Necklace Go with Everything?
Yes, they do. As already said, pearls are classic and you can be dolled up with a pearl necklace with any of your outfits.
Whether it's a black tie event or a casual hangout, rest assured that you will slay in a pearl necklace if you can choose the right one.
If it's a daytime engagement, wear a single-strand necklace with a blouse.
On the contrary, a cocktail dress will go well with larger pearls which are more dramatic.
Perhaps, the irregular-shaped pearls will be more trendy in combination with a flowy summer maxi dress for boho style lovers.
How Can I Wear a Pearl Necklace without Looking Old?
It's actually a myth that pearl necklaces will make you look old-fashioned.
If you want to slay in a pearl necklace, go with different types and sizes of pearls. If you can mix and match different colors of pearls and pile the necklace on, trust me, all the eyes will be on you whether it's an office party or a friend's hangout. But never overdo it with other accessories, rather let the pearl be the center of attraction.
Another important hack not to look old wearing a pearl necklace is to pair it up with modern everyday clothes like jeans, sweaters, t-shirts, shirts, etc. This will always keep you on the right track.
Final Words
Pearl is surely one of the most trendy items to lift your everyday look to a smarter one.
So, if your pearl necklace is currently lying down at the back of your drawer, don't hesitate to dig it out and start wearing it immediately.
In this article, we have best tried to enlighten you with some unfailing ideas about how to wear a pearl necklace casually.
If you opt for a relaxed and comfy everyday look, pearl necklaces are never outdated if paired with the right attire.
Hopefully, this guide will help you wear a pearl necklace casually for any go-to occasion.